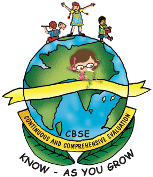 CBSE Class IX & X Students Must score atleast 25 per cent Marks in SA's to be Promoted
The Central Board of Secondary Education (CBSE) has introduced a new guidelines for students of class IX and Class X. CBSE has now made mandatory for the students of class IX to get a minimum of 25 per cent marks in their summative assessments ( both the SA I and SA II taken together), failing to which the student will not to be promoted to the next upper class.
Previously the student's mark sheet use to contain the cumulative scores in the two SAs and four FAs for each subject But after this revision the will have to score a minimum of 15 marks out of 60 in each of SAs to be promoted. This year, the rule will not be applicable for the Class X students but from next year board students will also have to face the challenge.
If mandatory 25% marks have NOT been obtained in the Summative assessments in a subject, Grade E1 or E2 will NOT be upgraded
The grades 'E1@' or 'E2@' will indicate that candidate has obtained less than 25% mandatory marks in Summative Assessments

---