Point of Sale (POS) Automation: Easing our Shopping Experience
The first few days of any new month are extremely busy for the people in general. During this time a supermarket is usually swarming with people moving from aisle to aisle to fill their trolleys with the prerequisites to help get through the month. There are two different situations to be taken to account here:
A manual billing system
A retail POS
In a manual billing system the number of shoppers being high, the salesmen to customer ratio will be extremely low. Imagine with the amount of items purchased, a manual entry and calculation of the same will be tedious and time consuming. This is not considering a purchase return or a discount provided. Alternately, a retail point of sale system plays a great role in this scenario.
A Point of Sales (POS) is the location where a transaction occurs. It is a salesman accessible system which allows the creation and printing of receipt. The retail industry is, nowadays, one of the most important users of the POS.
Retail POS typically includes:
Computer monitor
Cash register
Receipt printer
Customer display
Barcode scanner
Debit/credit card reader
How does it help a customer?
In the same situation, if the said supermarket had retail POS then:
There would be effective checkout counters
Enable faster billing
Purchase returns, discounts etc. provided would be easy to process
Printed record of sales
Accuracy in calculation and also avoid repetition errors
Increases the level of security in a debit/credit transaction
Retail POS provides as many advantages to the retailer as it does the customer. For example, it helps the retailer manage products available in his store as well as the quantity to be stocked next time an order is placed. It helps him check for any fraudulent transaction taking place. Helps build customer loyalty.
Thus, retail POS is a quality innovation for a generation where time is money. It not only facilitates a customer but also the seller. Using POS, many customers can be served easily and effectively. The billing system is a transparent way of charging and can be verified evenly by the customers. To the shopkeepers, POS is a boon, for it is the true management system, which takes care of each and every commodity, the inventory and the transaction.
Automate your retail processes by
SARMANG SOFTWARE'S RETAIL SOLUTION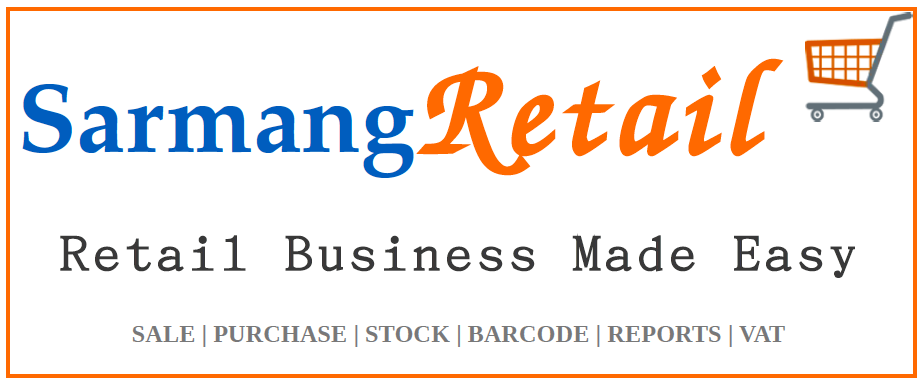 POINT OF SALE AND STOCK CONTROL SOFTWARE
| SALE | PURCHASE | STOCK | BARCODE | REPORTS | VAT |STOCK ALERT | SALES REPORT |
Phone: 09219-555-455