10 Ways: A Point of Sale (POS) System helps retailers
A market place is a highly competitive environment. A seller can open a store right next to or opposite to yours. The secret of successful retailing is to give your customers what they want. They need:
a wide assortment of good-quality merchandise;
the lowest possible prices;
guaranteed satisfaction in what they buy;
friendly, knowledgeable service;
convenient hours; free parking;
a pleasant shopping experience.
In the given setting, as a store manager you have to be alert and aware of the needs of your customers. Also in this context it is very important to mention a major factor- Time. It can make or break a business.
This is the place, where POS comes into the fore. 10 considerable advantages of choosing a POS system:
Retail POS typically includes:
1. Inventory management
If you are out of stock on a particular product, at the time the customer asks for it, there is a fair chance that you may lose the customer. With an effective POS system in place you need not worry about the product's availability. When stock of any product reaches a minimum value, POS system will provide an alert. You can refill the stock and avoid any loss on selling.
2. Designing effective marketing strategy
With all the data about customer's purchase details like time/day of week/date they like to purchase, products/company/category of interest, a forecast on your stock requirement in coming week/month or festival season can be made. It will help you to find out the day/time/product/company with lowest sales & hence can work as a base for the design of a marketing strategy. For example, if you are getting lowest sale on every Thursday as compared to other days of the week, you can launch a special offer for Thursday.
3. Forecast annual/monthly/daily sales
A POS system is designed to forecast the sales for any particular period of time. Data can be collected in a very short period of time.
4. Calculation of taxes
For any recognized institution taxes are a must. POS generates automatic tax calculation.
5. Cost/benefit analysis
Through POS, you can view daily profits. It also provides product wise profitability report on daily/weekly/monthly/annual basis.
6. Return on investment
Return on investment deals with the money you invest in the company and the return you realize on that money based on the net profit of the business. Since the POS system has all the data of the business, ROI period can be tracked utilizing monthly benefits.
7. Effective checkout counters
This is a huge advantage of having a POS system, wherein, no calculation is needed at check-out counters thereby improving delivery and expediting payment clearances.
8. Accuracy
Establishing a POS system ensures no manual calculations and 100% accuracy in billing amount, taxes, discounts and refund amount.
9. Customer loyalty
Profit is one of the main aims of any enterprise; the way to sound profit is by earning customer loyalty. It comes with the ambiance of the store, awareness to the needs of the customer and, how well stocked it is.
10. Customer service
POS enables in time trouble shoots, data retrieval and knowledge gathering thereby enhancing effective customer service.
With an effective POS system in place you are assured that you can stay afloat and in-fact sail through successfully while earning customers, cutting costs, making sound investment decisions and making ample profit. With more innovations like Radio Frequency Identifiers (RFID), for the retail industry, POS system can spread its functionalities like automated supply chain and customer relationship management, thereby going beyond payments.
Automate your retail processes by
SARMANG SOFTWARE'S RETAIL SOLUTION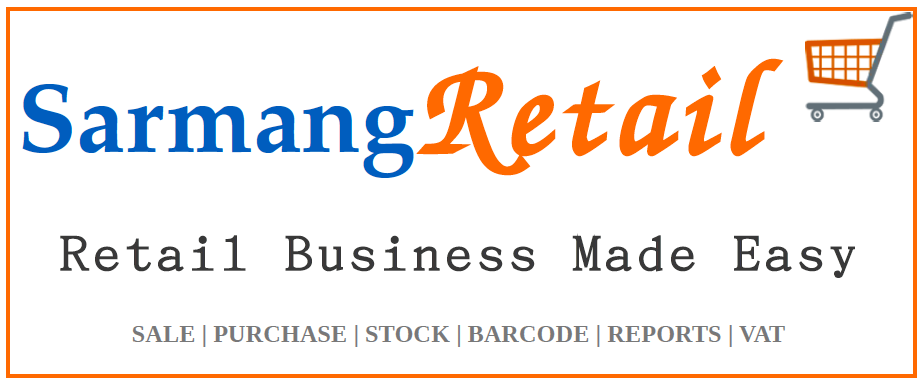 POINT OF SALE AND STOCK CONTROL SOFTWARE
| SALE | PURCHASE | STOCK | BARCODE | REPORTS | VAT |STOCK ALERT | SALES REPORT |
Phone: 09219-555-455